California-based jazz trio Charged Particles, saxophonist Tod Dickow and trumpet player Randy Brecker will be performing the music of one of the most important voices in the history of jazz: saxophonist Michael Brecker. 
Michael Brecker was a beloved innovator on the tenor saxophone whose unique voice and approach to the instrument influenced every performing saxophonist in jazz music today.  Winner of 15 Grammy Awards, he was a prolific composer and leader of a range of different bands, as well as a guest soloist with many other ensembles.  He was awarded some of the highest honors in jazz: an Honorary Doctorate from the Berkeley College of Music and induction into Down Beat Magazine's Hall of Fame.
Concerts on this tour will present performances of many widely-varying compositions of Michael's, from the many different phases of his professional life: co-leading the Brecker Brothers with sibling Randy, co-leading Steps Ahead, leading his own quartets and quintets, and more.  The band members will introduce each piece by providing a few words about what was going on in Michael's life then, the significance of the song, the meaning of the title (often quite interesting), and the place of the song in his larger repertoire.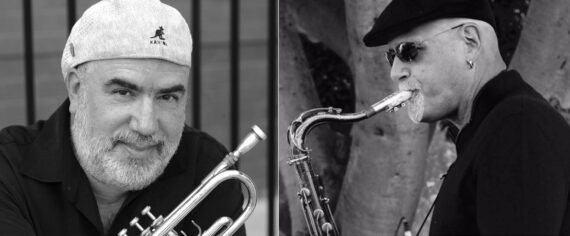 ABOUT CHARGED PARTICLES
The most exciting and creative music being made today crosses stylistic boundaries and blends diverse traditions to create engaging new sounds.  Charged Particles features three of the country's virtuosos doing just that in the acoustic and electric jazz arena.  Murray Low is a keyboard wizard with dazzling Latin-jazz technique and imaginative improvisational skills.  Aaron Germain is an inventive and sophisticated acoustic and electric bassist.  Along with fiery drummer Jon Krosnick, these players are making some of the most electrifying jazz in the country today.
The trio's funky Latin jazz repertoire, blending in elements of classical music, mixes complex orchestration with freewheeling improvisation.  The band brings a similar approach to playing their own arrangements of jazz standards, each played with a new twist. 
All of the trio's music has a distinctly acoustic sensibility, despite the members playing both acoustic and electric acoustic instruments.  The group's hallmark is sensitivity and spontaneity among the players, making each performance a spontaneous group exploration.   The band's energy level is always high, even when they are cooking at a volume no louder than a whisper, or floating through the melody of a romantic ballad.   Watching the group, it's obvious that they have fun playing together and admire each other's musical instincts
"The band executed the heady compositions with nuance and impeccable attention to detail' – All About Jazz
Discover more about the ongoing celebration of Michael Brecker's work.