Join Chetham's Library and local publisher Seven Arches Publishing to celebrate 'Atlanta Tully, Time Traveller', the third in the Time Traveller series aimed at readers in the 8-12 year-old age range.
Atlanta Tully, who is eleven years old, is from a multi-racial family living in Moss Side and is exceptionally talented musically, and so wins a place at Chetham's School of Music.
However, before she starts her education at the music school, she is approached by a mysterious organisation that asks her to go back in time for them – the plot thickens … Atlanta adventures back in time to the 1600s as a boy working for the priests at the College, the buildings of which are now Chetham's Library.
Atlanta meets Humphrey Chetham, who has come to talk to the warden about acquiring the buildings; but the King's cavalry arrive to arrest him for disloyalty to the crown. Atlanta helps him escape, and inspires Humphrey to leave money in his will to provide a school for forty poor boys.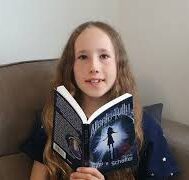 #FestivalOfLibraries @
MCRCityofLit